Tic Tac Toe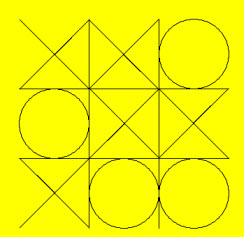 American Embassy School Grade 9 student Manit developed the classic Tic Tac Toe game in Terrapin Logo as a contest between the computer and a human player. The person goes first, clicking on a square to mark it with an X. The computer follows playing the O role. Manit has programmed the computer to be a clever Tic Tac Toe player and hard to beat.
This program utilizes basic artificial intelligence in Terrapin Logo to provide the computer strategy. Classic turtle graphics are used to draw the Tic Tac Toe board. Interaction is achieved by reading the mouse location and button status.
Manit explains the testing procedures used in developing the program.
I ran several tests on this game, first I played like a novice and saw if the computer could actually win, this test proved to be successful. Then gradually I improved my level of play and saw whether the computer could block of corner tricks etc.
Another test I ran was I played each square and saw whether the computer would play the square it was supposed to, this was tedious but it was a must I also tested for the clicking function. This proved to me a major head ache because I had changed the origin so it proved to be a bit tricky as the co-ordinates of the board and mouse were different. In the end it worked out.
Start Terrapin Logo, and load them into workspace or into an editor and use Edit/Define to define them into workspace. Alternately, open an editor, and paste the procedures into the editor. Then define the procedures with Edit/Define. Type TICTACTOE to begin and see if you can beat the strategy Manit developed for the computer player!
TicTacToe.lgo
TO CLICK1
    PU
    SETXY MOUSE
    IF (AND (AND 50 <= XCOR XCOR <= 150) (AND -50 <= YCOR YCOR <= 50)) [DRAW.X]
    IF (AND (AND -50 <= XCOR XCOR <= 50) (AND 50 <= YCOR YCOR <= 150)) [DRAW.X11]
    IF (AND (AND 50 <= XCOR XCOR <= 150) (AND 50 <= YCOR YCOR <= 150)) [DRAW.X12]
    IF (AND (AND 150 <= XCOR XCOR <= 250) (AND 50 <= YCOR YCOR <= 150)) [DRAW.X13]
    IF (AND (AND -50 <= XCOR XCOR <= 50) (AND -50 <= YCOR YCOR <= 50)) [DRAW.X01]
    IF (AND (AND 150 <= XCOR XCOR <= 250) (AND -50 <= YCOR YCOR <= 50)) [DRAW.X03]
    IF (AND (AND -50 <= XCOR XCOR <= 50) (AND -150 <= YCOR YCOR <= -50)) [DRAW.XB1]
    IF (AND (AND 50 <= XCOR XCOR <= 150) (AND -150 <= YCOR YCOR <= -50)) [DRAW.XB2]
    IF (AND (AND 150 <= XCOR XCOR <= 250) (AND -150 <= YCOR YCOR <= -50)) [DRAW.XB3]
END

TO POINT
    IF BUTTON? [PU SETXY MOUSE PD STOP]
    POINT
END

TO GETTIME
    PU SETXY [300 100] HT PD SETPC 0
    MAKE "T TIME
    SETFONT "TIME 14 1
    TT :T WAIT 1000
    SETPC 15 (STAMPOVAL 100 30 "TRUE)
    GETTIME
END

TO O11
    MAKE "A1 "2
    MAKE "CM "0
    PU
    SETPOS [-50 100]
    PD
    STAMPOVAL 50 50
END

TO O12
    MAKE "A2 "2
    MAKE "CM "0
    PU
    SETPOS [50 100]
    PD
    STAMPOVAL 50 50
END

TO O21
    MAKE "A4 "2
    MAKE "CM "0
    PU
    SETPOS [-50 0]
    PD
    STAMPOVAL 50 50
END

TO O13
    MAKE "A3 "2
    MAKE "CM "0
    PU
    SETPOS [150 100]
    PD
    STAMPOVAL 50 50
    PD
END

TO O23
    MAKE "A6 "2
    MAKE "CM "0
    PU
    SETPOS [150 0]
    PD
    STAMPOVAL 50 50
END

TO O31
    MAKE "A7 "2
    MAKE "CM "0
    PU
    SETPOS [-50 -100]
    PD
    STAMPOVAL 50 50
END

TO O32
    MAKE "A8 "2
    MAKE "CM "0
    PU
    SETPOS [50 -100]
    PD
    STAMPOVAL 50 50
END

TO O33
    MAKE "A9 "2
    MAKE "CM "0
    PU
    SETPOS [150 -100]
    PD
    STAMPOVAL 50 50
END

TO CHECKSQUARE
    CLEARTEXT
    IF :A1 = 1 THEN PR [SQUARE 1]
    IF :A2 = 1 THEN PR [SQUARE 2]
    IF :A3 = 1 THEN PR [SQUARE 3]
    IF :A4 = 1 THEN PR [SQUARE 4]
    IF :A5 = 1 THEN PR [SQUARE 5]
    IF :A6 = 1 THEN PR [SQUARE 6]
    IF :A7 = 1 THEN PR [SQUARE 7]
    IF :A8 = 1 THEN PR [SQUARE 8]
    IF :A9 = 1 THEN PR [SQUARE 9]

END

TO DRAW.O
    PU
    SETPOS [51 0]
    PD
    STAMPOVAL 50 50
END

TO DRAW.X
    PU
    SETPOS [50 0]
    PD
    SETHEADING 45 FD 70 BK 140 SETPOS [51 0] LT 90 FD 70 BK 140
    MAKE "A5 "1


END

TO RESETBOARD
    MAKE "A1 "0
    MAKE "A2 "0
    MAKE "A3 "0
    MAKE "A4 "0
    MAKE "A5 "0
    MAKE "A6 "0
    MAKE "A7 "0
    MAKE "A8 "0
    MAKE "A9 "0
END

TO SHOWRESULT
    PR [WHAT IS GOING ON?? ! YOU HAVE BEEN BEATEN ME ! !]
    TOPLEVEL
END

TO BOARD
    HT
    CS
    SETBG "YELLOW
    PU
    SETORIGIN [50 0]
    HOME
    PD
    FD 150
    BK 150
    BK 150
    FD 150
    BK 50
    LT 90
    FD 100
    BK 100
    RT 90
    FD 100
    RT 90
    RT 180
    FD 100
    BK 200
    RT 90
    FD 100
    BK 300
    FD 100
    LT 90
    RT 180
    FD 100
    BK 200
    FD 100
    BK 100
    LT 90
    FD 100 RT 90 FD 200
    PU
    SETPOS [-540 150]
    PD
    SETFONT "TIMES 14 1
    SETPC "BLACK
    TT [YOU ARE NOW FACING THE IMPOSSIBLE]
    PU


    HOME
    CLEARTEXT
    RESETBOARD
    MAKEMOVE
    WAIT 200
    COMPUTERSMOVE
    MAKEMOVE
    WAIT 200
    COMPUTERSMOVE
    MAKEMOVE
    WAIT 200
    COMPUTERSMOVE
    MAKEMOVE
    WAIT 200
    COMPUTERSMOVE
    MAKEMOVE
    WAIT 200
    COMPUTERSMOVE
    MAKEMOVE
END

TO CLICK
    PU
    SETXY MOUSE
    IF (AND (AND 50 <= XCOR XCOR <= 150) (AND -50 <= YCOR YCOR <= 50)) [DRAW.X]
    IF (AND (AND -50 <= XCOR XCOR <= 50) (AND 50 <= YCOR YCOR <= 150)) [DRAW.X11]
    IF (AND (AND 50 <= XCOR XCOR <= 150) (AND 50 <= YCOR YCOR <= 150)) [DRAW.X12]
    IF (AND (AND 150 <= XCOR XCOR <= 250) (AND 50 <= YCOR YCOR <= 150)) [DRAW.X13]
    IF (AND (AND -50 <= XCOR XCOR <= 50) (AND -50 <= YCOR YCOR <= 50)) [DRAW.X01]
    IF (AND (AND 150 <= XCOR XCOR <= 250) (AND -50 <= YCOR YCOR <= 50)) [DRAW.X03]
    IF (AND (AND -50 <= XCOR XCOR <= 50) (AND -150 <= YCOR YCOR <= -50)) [DRAW.XB1]
    IF (AND (AND 50 <= XCOR XCOR <= 150) (AND -150 <= YCOR YCOR <= -50)) [DRAW.XB2]
    IF (AND (AND 150 <= XCOR XCOR <= 250) (AND -150 <= YCOR YCOR <= -50)) [DRAW.XB3]
END

TO COMPUTERSMOVE
    MAKE "CM "1

    IF (AND (AND :A1 = 2 :A2 = 2) (AND :A3 = 0 :CM = 1)) [O13]
    IF (AND (AND :A1 = 2 :A2 = 0) (AND :A3 = 2 :CM = 1)) [O12]
    IF (AND (AND :A1 = 0 :A2 = 2) (AND :A3 = 2 :CM = 1)) [O11]

    IF (AND (AND :A4 = 2 :A5 = 2) (AND :A6 = 0 :CM = 1)) [O23]
    IF (AND (AND :A4 = 2 :A5 = 0) (AND :A6 = 2 :CM = 1)) [OCENTRE]
    IF (AND (AND :A4 = 0 :A5 = 1) (AND :A6 = 2) :CM = 1) [O21]

    IF (AND (AND :A7 = 2 :A8 = 2) (AND :A9 = 0 :CM = 1)) [O33]
    IF (AND (AND :A7 = 2 :A7 = 0) (AND :A9 = 2 :CM = 1)) [O32]
    IF (AND (AND :A7 = 0 :A8 = 2) (AND :A9 = 2 :CM = 1)) [O31]

    IF (AND (AND :A1 = 0 :A4 = 2) (AND :A7 = 2 :CM = 1)) [O11]
    IF (AND (AND :A1 = 2 :A4 = 2) (AND :A7 = 0 :CM = 1)) [O31]
    IF (AND (AND :A1 = 2 :A4 = 2) (AND :A7 = 0 :CM = 1)) [O21]

    IF (AND (AND :A2 = 0 :A5 = 2) (AND :A8 = 2 :CM = 1)) [O12]
    IF (AND (AND :A2 = 2 :A5 = 0) (AND :A8 = 2 :CM = 1)) [OCENTRE]
    IF (AND (AND :A2 = 2 :A5 = 2) (AND :A8 = 0 :CM = 1)) [O32]

    IF (AND (AND :A3 = 0 :A6 = 2) (AND :A9 = 2 :CM = 1)) [O13]
    IF (AND (AND :A3 = 2 :A6 = 0) (AND :A9 = 2 :CM = 1)) [O23]
    IF (AND (AND :A3 = 2 :A6 = 2) (AND :A9 = 0 :CM = 1)) [O33]


    IF (AND (AND :A1 = 0 :A5 = 2) (AND :A9 = 2 :CM = 1)) [O11]
    IF (AND (AND :A1 = 2 :A5 = 0) (AND :A9 = 2 :CM = 1)) [OCENTRE]
    IF (AND (AND :A1 = 2 :A5 = 2) (AND :A9 = 0 :CM = 1)) [O33]

    IF (AND (AND :A3 = 0 :A5 = 2) (AND :A7 = 2 :CM = 1)) [O13]
    IF (AND (AND :A3 = 2 :A5 = 0) (AND :A7 = 2 :CM = 1)) [OCENTRE]
    IF (AND (AND :A3 = 2 :A5 = 2) (AND :A7 = 0 :CM = 1)) [O31]











    IF (AND (AND :A1 = 1 :A2 = 1) (AND :A3 = 0 :CM = 1)) [O13]
    IF (AND (AND :A1 = 1 :A2 = 0) (AND :A3 = 1 :CM = 1)) [O12]
    IF (AND (AND :A1 = 0 :A2 = 1) (AND :A3 = 1 :CM = 1)) [O11]

    IF (AND (AND :A4 = 1 :A5 = 1) (AND :A6 = 0 :CM = 1)) [O23]
    IF (AND (AND :A4 = 1 :A5 = 0) (AND :A6 = 1 :CM = 1)) [OCENTRE]
    IF (AND (AND :A4 = 0 :A5 = 1) (AND :A6 = 1) :CM = 1) [O21]

    IF (AND (AND :A7 = 1 :A8 = 1) (AND :A9 = 0 :CM = 1)) [O33]
    IF (AND (AND :A7 = 1 :A7 = 0) (AND :A9 = 1 :CM = 1)) [O32]
    IF (AND (AND :A7 = 0 :A8 = 1) (AND :A9 = 1 :CM = 1)) [O31]

    IF (AND (AND :A1 = 0 :A4 = 1) (AND :A7 = 1 :CM = 1)) [O11]
    IF (AND (AND :A1 = 1 :A4 = 0) (AND :A7 = 1 :CM = 1)) [O21]
    IF (AND (AND :A1 = 1 :A4 = 1) (AND :A7 = 0 :CM = 1)) [O31]

    IF (AND (AND :A2 = 0 :A5 = 1) (AND :A8 = 1 :CM = 1)) [O12]
    IF (AND (AND :A2 = 1 :A5 = 0) (AND :A8 = 1 :CM = 1)) [OCENTRE]
    IF (AND (AND :A2 = 1 :A5 = 1) (AND :A8 = 0 :CM = 1)) [O32]

    IF (AND (AND :A3 = 0 :A6 = 1) (AND :A9 = 1 :CM = 1)) [O13]
    IF (AND (AND :A3 = 1 :A6 = 0) (AND :A9 = 1 :CM = 1)) [O23]
    IF (AND (AND :A3 = 1 :A6 = 1) (AND :A9 = 0 :CM = 1)) [O33]


    IF (AND (AND :A1 = 0 :A5 = 1) (AND :A9 = 1 :CM = 1)) [O11]
    IF (AND (AND :A1 = 1 :A5 = 0) (AND :A9 = 1 :CM = 1)) [OCENTRE]
    IF (AND (AND :A5 = 1 :A5 = 1) (AND :A9 = 0 :CM = 1)) [O33]

    IF (AND (AND :A3 = 0 :A5 = 1) (AND :A7 = 1 :CM = 1)) [O13]
    IF (AND (AND :A3 = 1 :A5 = 0) (AND :A7 = 1 :CM = 1)) [OCENTRE]
    IF (AND (AND :A3 = 1 :A5 = 1) (AND :A7 = 0 :CM = 1)) [O31]







    IF (AND :A5 = 0 :CM = 1) [OCENTRE]
    IF (AND (AND :A1 = 1 :A9 = 1) (AND :A2 = 0 :CM = 1)) [O12]
    IF (AND (AND :A1 = 1 :A9 = 1) (AND :A4 = 0 :CM = 1)) [O21]
    IF (AND (AND :A1 = 1 :A9 = 1) (AND :A6 = 0 :CM = 1)) [O23]
    IF (AND (AND :A1 = 1 :A9 = 1) (AND :A8 = 0 :CM = 1)) [O32]

    IF (AND (AND :A3 = 1 :A7 = 1) (AND :A2 = 0 :CM = 1)) [O12]
    IF (AND (AND :A3 = 1 :A7 = 1) (AND :A4 = 0 :CM = 1)) [O21]
    IF (AND (AND :A3 = 1 :A7 = 1) (AND :A6 = 0 :CM = 1)) [O23]
    IF (AND (AND :A3 = 1 :A7 = 1) (AND :A8 = 0 :CM = 1)) [O32]


    IF (AND :A1 = 0 :CM = 1) [O11]
    IF (AND :A3 = 0 :CM = 1) [O13]
    IF (AND :A7 = 0 :CM = 1) [O31]
    IF (AND :A9 = 0 :CM = 1) [O33]
    IF (AND :A2 = 0 :CM = 1) [O12]
    IF (AND :A4 = 0 :CM = 1) [O21]
    IF (AND :A6 = 0 :CM = 1) [O24]
    IF (AND :A8 = 0 :CM = 1) [O32]
    IF (:CM = 1) [RESULTDRAW]

END

TO SELECT.ICON
    POINT
    WAIT 50
    CLICK
END

TO TC
    CS
    PU
    FD 100 SETPC 12 PD
    (STAMPOVAL 20 20 "TRUE)
    PU HOME
    MOVECONTROL

END

TO DRAW.X01
    PU
    SETPOS [0 50]
    PD
    SETHEADING 225
    FD 140 BK 70
    RT 90
    FD 70 BK 140
    MAKE "A4 "1

END

TO MOVECONTROL
    MAKE "K RC
    IF :K = CHAR 193 FD 5
    IF :K = CHAR 194 BK 5
    IF :K = "Q [PR [OVER] WAIT CS STOP]
    IF :K = CHAR 196 RT 10
    IF :K = CHAR 195 LT 10
    MAKE "C BASECOLOR (DOTCOLOR)
    IF :C = 12 [PR [COLLISION] HOME SETPC "BLACK STOP]

    MOVECONTROL
END

TO DRAW.X03
    MAKE "A6 "1
    PU
    SETPOS [100 50]
    PD
    SETHEADING 135
    FD 140
    BK 70
    LT 90
    FD 70 BK 140
END

TO DRAW.X11
    MAKE "A1 "1
    PU SETPOS [0 50]
    SETHEADING 0
    PD
    LT 45
    FD 140
    BK 70
    RT 90
    FD 70 BK 140
END

TO DRAW.X12
    MAKE "A2 "1
    PU SETPOS [0 50]
    SETHEADING 90
    PD
    LT 45
    FD 140
    BK 70
    RT 90
    FD 70 BK 140
END

TO MAKEMOVE
    CHECKRESULT
    SELECT.ICON
    CHECKSQUARE

END

TO DRAW.X13
    MAKE "A3 "1
    PU
    SETPOS [100 50]
    PD
    SETHEADING 45
    FD 140
    BK 70
    RT 90 FD 70 BK 140
END

TO OCENTRE
    MAKE "A5 "2
    MAKE "CM "0
    PU
    SETPOS [50 0]
    PD
    STAMPOVAL 50 50
END

TO DRAW.XB1

    PU
    MAKE "A7 "1
    SETPOS [0 -50]
    PD
    SETHEADING 225
    FD 140
    BK 70
    RT 90
    FD 70 BK 140
END

TO DRAW.XB2
    MAKE "A8 "1
    PU
    SETPOS [0 -50]
    SETHEADING 135
    PD
    FD 140 BK 70
    LT 90
    FD 70 BK 140
END

TO DRAW.XB3
    MAKE "A9 "1
    PU
    SETPOS [100 -50]
    SETHEADING 135
    PD
    FD 140
    BK 70
    LT 90
    FD 70
    BK 140
END

TO CHECKRESULT
    IF (AND (AND :A1 = 1 :A2 = 1) (:A3 = 1)) [SHOWRESULT]
    IF (AND (AND :A4 = 1 :A5 = 1) (:A6 = 1)) [SHOWRESULT]
    IF (AND (AND :A7 = 1 :A8 = 1) (:A9 = 1)) [SHOWRESULT]
    IF (AND (AND :A1 = 1 :A4 = 1) (:A7 = 1)) [SHOWRESULT]
    IF (AND (AND :A2 = 1 :A5 = 1) (:A8 = 1)) [SHOWRESULT]
    IF (AND (AND :A3 = 1 :A6 = 1) (:A9 = 1)) [SHOWRESULT]
    IF (AND (AND :A1 = 1 :A5 = 1) (:A9 = 1)) [SHOWRESULT]
    IF (AND (AND :A3 = 1 :A5 = 1) (:A7 = 1)) [SHOWRESULT]




    IF (AND (AND :A1 = 2 :A2 = 2) (:A3 = 2)) [SHOWLIKELYRESULT]
    IF (AND (AND :A4 = 2 :A5 = 2) (:A6 = 2)) [SHOWLIKELYRESULT]
    IF (AND (AND :A7 = 2 :A8 = 2) (:A9 = 2)) [SHOWLIKELYRESULT]
    IF (AND (AND :A1 = 2 :A4 = 2) (:A7 = 2)) [SHOWLIKELYRESULT]
    IF (AND (AND :A2 = 2 :A5 = 2) (:A8 = 2)) [SHOWLIKELYRESULT]
    IF (AND (AND :A3 = 2 :A6 = 2) (:A9 = 2)) [SHOWLIKELYRESULT]
    IF (AND (AND :A1 = 2 :A5 = 2) (:A9 = 2)) [SHOWLIKELYRESULT]
    IF (AND (AND :A3 = 2 :A5 = 2) (:A7 = 2)) [SHOWLIKELYRESULT]




END

TO TICTACTOE
    CS

    SETBG "GREEN
    PU
    SETPOS [-100 100]
    PD
    SETFONT "TIMES 32 1
    SETPC "WHITE
    TT [TIC TAC TOE]
    PU
    SETPOS [-175 50]
    SETPC "BLACK
    PD
    TT [BY MANIT BHARANY]
    PU SETPOS [-350 0]
    PD
    SETFONT "TIMES 14 1
    SETPC "AQUA
    TT [1. IT IS A ONE PLAYER GAME 2. PLACE YOUR BET AT THE START GAME]
    PU SETPOS [-530 -25]
    PD
    SETFONT "TIMES 13 1
    TT [3. IF YOU WIN YOU DOUBLE YOUR MONEY, IF YOU LOSE YOU LOSE YOUR MONEY AND IF YOU DRAW YOU GET YOUR MONEY BACK]
    PU SETPOS [-560 -50]
    PD
    TT [4.THE PLAYER ALWAYS STARTS FIRST,THEN THE COMPUTER,THEN THE PLAYER AND SO ON.IN OTHER WORDS TAKE TURNS ALTERNATELY]
    PU SETPOS [-425 -75]
    PD
    TT [5. YOU CAN PLACE YOUR SHAPE ANYWHERE ON THE GRID AS LONG AS THE SQUARE IS NOT OCCUPIED]
    PU SETPOS [-375 -100]
    PD
    TT [6. THE GAME IS WON IF EITHER THE COMPUTER OR THE PLAYER FORMS A STRAIGHT LINE]
    PU SETPOS [-275 -125]
    PD
    TT [IF NONE MANAGE TO DO SO THE GAME IS DEEMED TO BE A DRAW.]
    PU SETPOS [-125 -175]
    PD
    SETFONT "TIMES 26 1
    SETPC "BLACK
    TT [HIT X TO BEGIN]
    LABEL "START
    MAKE "BEGIN RC
    IF :BEGIN = "X BOARD
    GO "START
END

TO SHOWLIKELYRESULT
    PR [HEH HEH HEH WHAT IS GOING ON?? ! YOU HAVE BEEN BEATEN ! !]
    TOPLEVEL
END

TO RESULTDRAW
    PR [THIS MATCH ENDS IN A DRAW]
    TOPLEVEL


END

MAKE "C "0
MAKE "K "Q
MAKE "T [13 44 14]
MAKE "BEGIN "X
MAKE "A1 "1
MAKE "A2 "1
MAKE "A3 "2
MAKE "A4 "2
MAKE "A5 "1
MAKE "A6 "1
MAKE "A7 "1
MAKE "A8 "2
MAKE "A9 "2
MAKE "CM "1
MAKE "|A1"| "0

---
| | |
| --- | --- |
| Procedure | TICTACTOE |
| Description | Play Tic Tac Toe against the computer |
| Level | Intermediate |
| Tags | Game, Tic Tac Toe |