EchoPen
Never Forget What You Wrote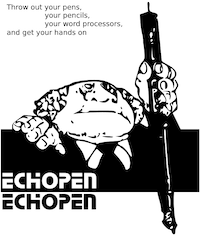 The EchoPen is the smart pen of the future. It records everything that you write, and plays it back whenever you need it. It is crammed with latest space technology; storage, gyroscopes, GPS sensors and much more.
Did you ever try to recall something that you wrote down? With EchoPen, it is just a matter of seconds. Just place it on a sheet of paper, use the EchoPen app on your smartphone to select your writing, and the EchoPen will rise up and recreate your writing, word for word, exactly as you wrote them down.
Each EchoPen comes with an upright wireless charge pad, a set of ink cartridges in different colors, and a beautiful enclosure.
With EchoPen, you will never forget what you wrote – ever!