MacroWaves
The Hottest Way to Keep Cool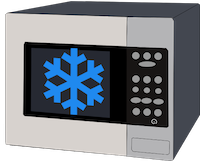 By reverse engineering microwave technology, scientists have created MacroWaves, the latest sensation in electronic appliances. While a microwave oven heats very rapidly, a MacroWave cooler does just the opposite. It can cool your favorite beverage or food in literally a matter of seconds. Whether you choose digital or dial controls, a MacroWave can cool your beverage from room temperature to freezing in thirty seconds.
A full line of MacroWave accessories is available to make your MacroWave more convenient. With special containers you can make ice cream in two minutes or have those leftovers safely stored in the freezer before they can cool off. Forget the ice? A MacroWave rescues you from that situation – put the ice cube trays in the MacroWave for just five minutes and let the party begin! Special adapters are available to plug portable MacroWaves into your car's lighter to keep cool on the road.
A MacroWave is just the thing for today's busy lifestyles!