Getting Started with Easi-Scope Wireless
The Easi-Scope Wireless Digital Microscope is a great way to introduce K–8 students to the hidden world that is around them, but invisible to the naked eye.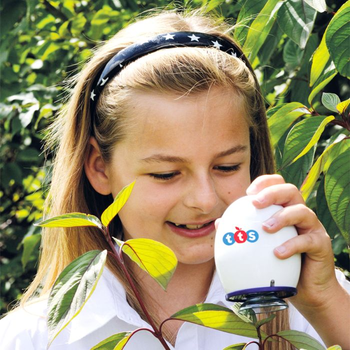 The Easi-Scope (Wireless) Digital Microscope, from the makers of Bee-Bot, lets students examine everyday objects in amazing detail. Easi-Scope turns young students into scientific detectives who can discover and explore the inner workings and fine details of the world around them. The egg shape makes it easy to grasp and focus while built-in LED lights provide close-up illumination.
Adjust the focus by rotating the focus ring.
Capture a snapshot of the specimen you are viewing by pressing the shutter button on the top of the microscope. You can record videos as well.
Connect your computer to a whiteboard and the whole class can share in discovery. A basic camera tool on your computer is all you need. Open an existing one on your machine and select the Easi-Scope device (listed as USB Microscope) as your viewing source, or download the Xploview software for Windows or Mac computers at http://www.xploview.com/.
Choose an item from the sidebar to learn how to use the Easi-Scope.