Card Mat
The Card Mat is a versatile mat that you can tailor to whatever you would you like your students to explore. The Card Mat, ideal for both Bee-Bots and Blue-Bots, is a grid covered with an attached clear plastic sheet. Lift the clear sheet to position images on the grid and then lower it to lock them in place. Students guide their robot across the 6x6 grid as they practice and learn each concept.
Lesson Ideas for Using the Card Mat in the Classroom
Because the Card Mat gives you a blank slate, you can use it to target any curriculum area. You can customize activities to highlight features of your school, your community, and the natural environment near them.
Here are some ideas:
Place photos of your students under the clear plastic grid so they can learn each other's names at the start of the year.
Use photos of specialists in your school so students get to know them.
Create a map of your school using photos of various classrooms of buildings.
These photos show Card Mats being used with 2nd graders as they explore local bird species and dinosaurs. Read more in this Customer Story.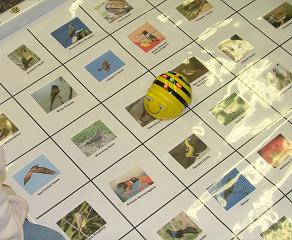 Create duplicate sets of images that you use on the Card Mat. This allows you have a set that the students choose from, either intentionally or randomly, as a target destination for Bee-Bot.
Lesson Ideas for Using the Online Card Mat
If students are using computers in your classroom, have them use the online Card Mat in the Bee-Bot Emulator in a browser. Although the Card Mat in the emulator is blank, students can try other mats from the drop-down menu.
For example, the Life Cycles of a Butterfly mat is part of Bee-Bot Lessons and uses the Card Mat. Students can give Bee-Bot commands to follow the numbered squares to learn about the life cycle of perhaps their favorite insect.
Mat Details
The Card Mat is incorporated into most of the Bee-Bot Lessons. These lessons give teachers lesson plans that are tied to national curriculum standards. They give students an opportunity to engage in over 180 learning activities using the floor Bee-Bot or Blue-Bot or the same activities in the online emulator. Bee-Bot Lessons includes over 3,000 printable images to use with the Card Mat.
The mat is made of washable vinyl and measures approximately 36" by 36" (90 cm by 90 cm)