Remote Control using Bluetooth
You can use the Tuff-Bot Emulator to control Tuff-Bot remotely using Bluetooth.
If your device—computer, laptop, Chromebook, tablet, phone—has built-in Bluetooth connectivity, you can pair the devices and control Tuff-Bot remotely.
To pair your device to Tuff-Bot, first turn on Tuff-Bot.
Then press the Bluetooth button in the Tuff-Bot emulator.

If your device does not have Bluetooth capability, you will see a message in red at the bottom of the keypad.
Your device will scan for nearby Bluetooth devices.
Next, press the Bluetooth. Your device will look for Tuff-Bot.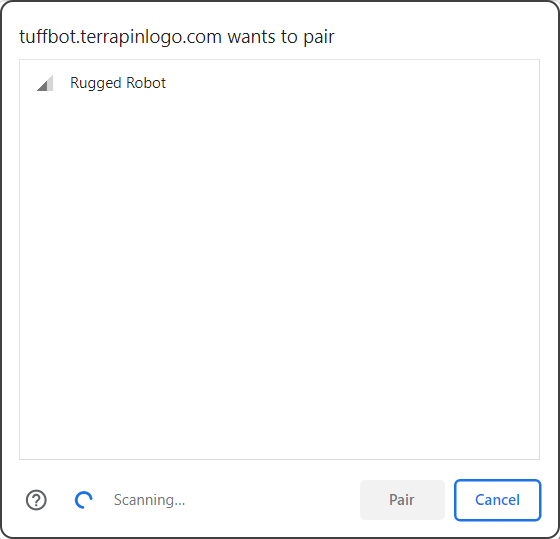 When it finds Tuff-Bot, it will appear as Rugged Robot.
Click the name Rugged Robot, and then click Pair.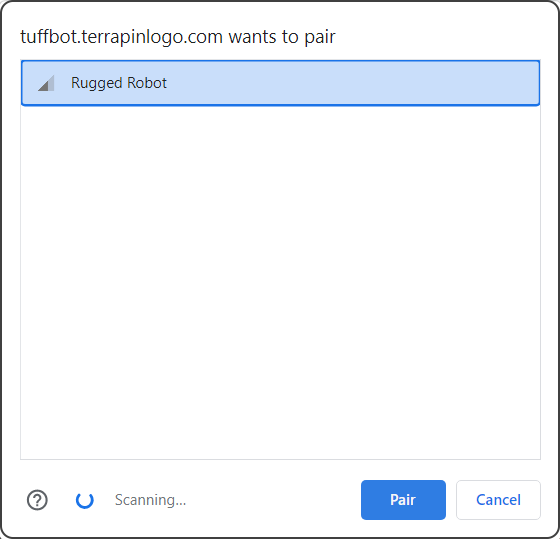 Now your device and Tuff-Bot are paired.
When you press buttons in the onscreen emulator, Tuff-Bot will also perform those actions!