Using Bee-Bot to Supercharge the Engagement Factor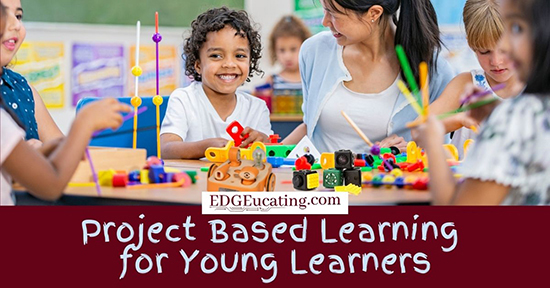 Alicia Verweij, owner and consultant at EDGEucating.com, says,
"We believe in creating students that are ready to engage in the global marketplace. It is our passion to provide educators with cutting-edge classroom resources to assist them in preparing their students for this mission."
The EDGEucating website is free and is filled with articles and videos covering a wide range of subjects — from planning and assessing goals to grant writing tips, from technology skills to emotional and social learning, and more — all specifically designed to help today's educators.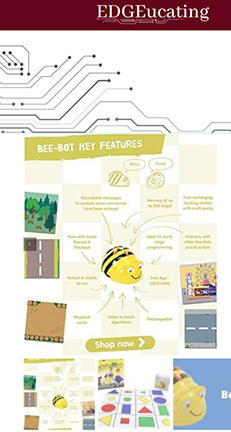 One of EDGEucating's focuses is to research and vet products (including many of Terrapin's), and to develop strategies and curriculum aids for their use in the classroom. Alicia describes the review process saying,
"When we vet products we focus on their effectiveness to engage students while working well in a project-based learning setting. In addition, the product must be sturdy enough for students and friendly enough for the budget."
The team at EDGEucating recommends Bee-Bot due to its durability and appeal to younger students while maintaining a budget-friendly price point.
"It is a highly versatile bot that can be used for a plethora of project-based learning activities and works cross-curricular. That is why we took this product a step further with our endorsement and created a Playbook for it." she adds.
EDGEucating developed Playbooks as an aid to Project Based Learning. (Their article Project Based Learning for Young Learners is full of research on how important this is for the very young, as well as ideas on how to put it into practice.). The Playbooks feature fully vetted computational products highlighting the why, where, and how to use them in the classroom. Instructional videos, teaching resources, and lesson ideas give concise, thorough guidance and a range of fun classroom activities to educators looking to get the most from the product.

Referring to their decision to create a Bee-Bot Playbook Alicia said,
"We wanted to highlight its versatility and ease of implementation into any curriculum. We have worked with teachers from across the globe to implement both Bee-Bot and Blue-Bot into their classrooms. It is a great project to introduce coding and supercharge the engagement factor of any subject or lesson."
---
Contact Information
| | |
| --- | --- |
| Name | Alicia Verweij |
| Position | Owner and consultant at EDGEucating.com |
| School | EDGEucating |
| Location | Picayune, MS |
| Email | customerservice@edgeucating.com |
| Website | https://edgeucating.com/ |
| Tags | Bee-Bot, Curriculum, Mississippi |
| Age | Young Learners |