Branksome Hall Junior School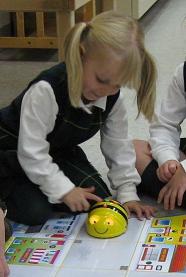 When four-year-old Ella first laid her hands on a Bee-Bot, she was tentative but intrigued. With her teacher's instruction and encouragement, followed by Ella's few trial-and-error attempts, the Junior Kindergarten student soon mastered her first robotics lesson.
"I did it!" cheered Ella as she jumped for joy after successfully moving her Bee-Bot along its Treasure Map. Ella is just one of 260 Branksome Hall Junior School students who are developing computer programming and robotic skills using Terrapin's educational tools.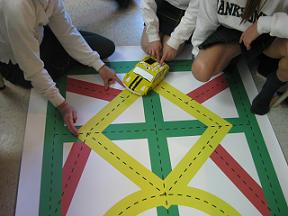 An IB World School for girls in Toronto, Canada, Branksome Hall has implemented a robotics program from Junior Kindergarten through Grade 6. It teaches the girls problem solving, mathematical and programming languages, an understanding of angles, estimation skills, and how to cooperate with each other.
Students send Pro-Bot along the Route Mat. "I always find it interesting to listen to the conversations as the girls try to complete a task," says Cathy Russell, Head of the Junior Division and Integrated Technology Coordinator. "Often, the learning process is more important than the completion of the task." The Junior and Senior Kindergarten children love the Bee-Bot and are able to move the device from one location to another, using the forward and turn commands. They are also given time to explore ways of using the Bee-Bot on their own.
From Grades 1–3, Branksome Hall girls learn how to make the Bee-Bot move to two or more locations and more complicated programming. At each mat, they have tasks to complete. For example, using the Alphabet Map, they must program the Bee-Bot to spell words by pausing at each letter before moving onto the next. Girls in Grades 1-3 also use Focus on Bee-Bot simulation software on the computer. "They really enjoy using the different perspectives, especially being able to see what the Bee-Bot sees," says Ms Russell.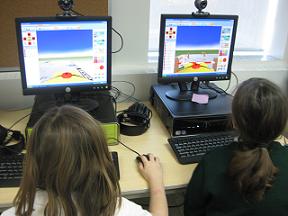 Students send Pro-Bot along the Route Mat. From Grades 4–6, Branksome girls use the Pro-Bot, the Route Map and Logo software to learn more sophisticated programming. In Grade 4, the girls are finding their way around the outside green rectangle on the Route Mat and also a path going in and out using the green lines. In Grade 5, they learn how to use angles other than 90˚. By Grade 6, the girls will discover how to make the Pro-Bot go around in a circle. The girls use the Logo software to draw a variety of shapes, including squares, rectangles, triangles, pentagons and hexagons. One of their challenges is to spell their name by adding the "pen up" and "pen down" commands.
The Bee-Bots, Pro-Bots and associated software programs are an integral part of Branksome Hall's robotics program. Robotics also includes programming LEGO WeDo in the primary grades and LEGO Robotics in the junior grades. The girls are learning computer programming through Logo and Scratch Animation.
"The girls are highly engaged when they are using the Bee-Bots and Pro-Bots," says Ms Russell. "Our robotics classes are usually filled with lots of cheering!"
---
Contact Information