STEM Centers in Oklahoma City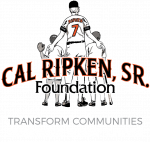 The Cal Ripken Sr. Foundation, in partnership with the Foundation for Oklahoma City Public Schools, Devon Energy, and many local supporters, coordinated the installation of STEM Centers at all 33 elementary schools in Oklahoma City. Each STEM center is in dedicated space at the school and available to students from kindergarten through 4th grade who spend scheduled time there learning about science, technology, engineering, and math.
Inspired by Cal Ripken, Sr.'s devotion to teaching, the Foundation teams with those committed to helping underserved youth achieve their full potential. Ripken Foundation STEM Centers are designed for youth organizations and schools to get youth interested in STEM through hands-on learning. Each STEM Center comes fully equipped with the latest technology, the Ripken Foundation STEM Center Curriculum Guidebook for mentors, and customizable tool kits that include hands-on games and activities. The Ripken Foundation also provided two days of training for two staff members at each school on utilizing the STEM center resources.
Bee-Bots and Blue-Bots along with support materials, are among the resources available to students and teachers in the Oklahoma City STEM Centers. Bee-Bots and Blue-Bots inspire even the youngest students to learn the basics of coding while developing their critical thinking and collaboration skills.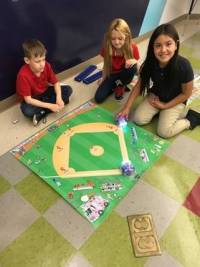 In honor of the stellar baseball careers of Cal Ripken, Sr., Cal Ripken, Jr., and Billy Ripken, Terrapin developed a Baseball Mat to be used with Bee-Bot and Blue-Bot and donated one to each of the Oklahoma City STEM Centers. The Baseball Mat pictures a children's baseball field with two full teams in the midst of a game. They may be used to teach the rules of the game and inspire students to program Bee-Bot and Blue-Bot to run the bases or visit other interesting features of the ballpark, such as the hot dog stand or ice cream truck..
Oklahoma students program Blue-Bot to traverse the Baseball Mat.
---
Contact Information
| | |
| --- | --- |
| Name | Travis Punt |
| School | Cal Ripken Sr. Foundation |
| Location | Baltimore, MD |
| Email | tpunt@ripkenfoundation.org |
| Website | https://www.ripkenfoundation.org |
| Tags | Bee-Bot, Blue-Bot, Oklahoma, Learning Mats, Video, Grants |
| Age | Grades K-4 |