Hello, Robo!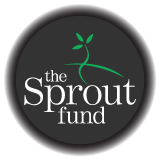 Empowered by a grant from the Sprout fund, a foundation which supports innovative ideas to catalyze change in Pittsburgh, Carnegie Science Center developed the "Hello, Robo!" program to introduce robotics technology to early learning students. Through Hello, Robo!, Carnegie Science Center prepared a full kit of robotics materials, each of which includes a Bee-Bot and Bee-Bot support materials, for 132 Head Start and kindergarten classrooms in the surrounding area.
Hello, Robo! includes classroom visits by representatives from Carnegie Science Center who deliver the robotics kits and introduce the robots and the principles behind them to the excited students. After the initial presentation, the kits stay in the classroom to allow students to continue learning with the robots under the supervision of the local teacher.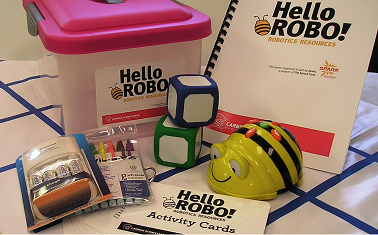 Wendy Brenneman, Early Childhood Coordinator at Carnegie Science Center, notes that "Preschoolers are natural scientists. Above all else, they're curious about everything, a litany of why, why, why that lends itself to days filled with discovery. As preschoolers become more cognizant of what their minds and bodies can and cannot do, they are increasingly able to understand parallels between themselves and robots."
Hello, Robo! classroom visits begin with such a discussion. "We have joints; robots have gears. We can choose to follow a series of directions; robots are programmed to follow a series of directions." To prove the point, Brenneman herds the group into a line. Under her direction, the students follow a series of plastic mats laid out on the floor: walk forward, walk sideways, jump, walk forward, walk forward, touch your toes.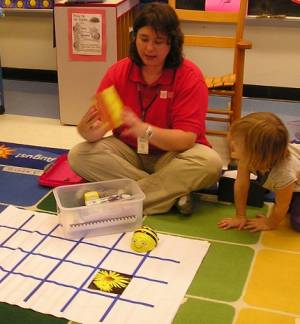 Once back in the circle, it is time to apply the same principles to Bee-Bot by issuing commands through the directional buttons on Bee-Bot's back. Brenneman asks the children what they would have to tell Bee-Bot to do to get from point A to point B on Bee-Bot's plastic grid mat. Go forward twice. Turn to the right. Go forward again. Students carefully enter the commands by pressing Bee-Bot's directional buttons. When the program is complete, a student presses the green GO button and Bee-Bot precisely executes each command and ends up at the desired destination, accompanied by squeals of delight and comprehension among the students who are clamoring to try again with a new path.
The goal of Hello, Robo! is that early exposure to robotics technology could be a spark that will someday turn the preschool scientist into an adult scientist.
In addition to Hello, Robo!, Carnegie Science Center uses Bee-Bots in interactive table displays during Family Science Nights which offer the opportunity for students to share all of the excitement and learning that the robot inspires with their parents and siblings.
Contact Information
Name: Wendy Brenneman
Position: Early Childhood Coordinator
School: Carnegie Science Center
Location: Pittsburgh, PA
Address: One Allegheny Avenue, Pittsburgh, PA 15212
Email: brennemanw@carnegiesciencecenter.org
Website: http://www.carnegiesciencecenter.org
Tags: Bee-Bot, Pennsylvania
Age: Headstart, Kindergarten
---
Contact Information
| | |
| --- | --- |
| Name | Wendy Brenneman |
| Position | Early Childhood Coordinator |
| School | Carnegie Science Center |
| Location | Pittsburgh, PA |
| Address | One Allegheny Avenue, Pittsburgh, PA 15212 |
| Email | brennemanw@carnegiesciencecenter.org |
| Website | http://www.carnegiesciencecenter.org |
| Tags | Bee-Bot, Pennsylvania |
| Age | Headstart, Kindergarten |