Community in Schools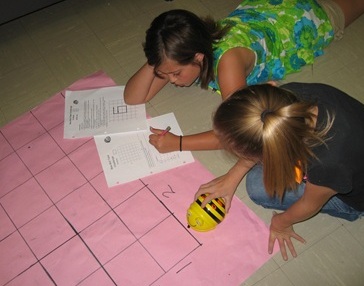 Akin Elementary School in Hale Center, Texas, is conducting a summer learning program through a "Community in Schools" grant provided by Ace/21st Century. Interested students in grades 1–8 filled all the classes through advance registration. Science classes feature Introductory Robotics using Bee-Bots and Pro-Bots. Course teacher Lester Carr used challenges from Problem Solving with Bee-Bot, which he wrote and which is published by Terrapin, to introduce robotics using Bee-Bot to younger students. Older students use Pro-Bot and challenges developed by Mr. Carr, which he is developing into a future published curriculum for using Pro-Bot in the classroom.
Excitement ran high as students were introduced to Bee-Bot and practiced using the controls. Though none of the students had previous experience using Bee-Bot, younger students in grades 1–3 are soon able to move Bee-Bot to various locations on their grid mat indicated by Level 1 problems in Problem-Solving with Bee-Bot. After learning the basics, students work in pairs to solve challenges at higher levels of difficulty.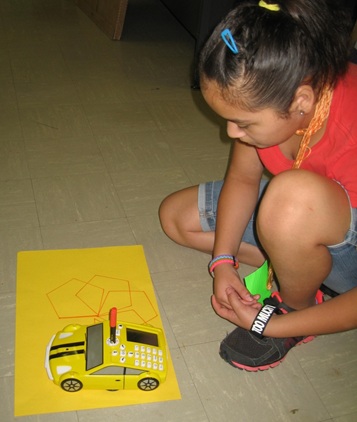 Fourth grade students start with harder problems from Level 2 and higher. After some head scratching and comments like, "I didn't tell it to go there, did I?" or "Why did it go THERE?", success is enjoyed by all with high-fives and bright smiles all around. Students work through 30 of the more than 150 problems in the book and then may create their own or work other "special" problems.
Students in grades 5–8 use Pro-Bot to solve challenging problems with the Pro-Bot Route Mat. This involves calculating various angles and even developing circular paths as they navigate routes on the mat. This helps students to develop geometry skills in reading angles as well as decision-making skills in selecting alternate routes to arrive at their destination.
A very popular part of the course is using Pro-Bot's capability to carry a pen to draw pictures and shapes. Using Pro-Bot's pen up-down feature, students develop procedures on the robot with which they draw different geometric patterns and other designs.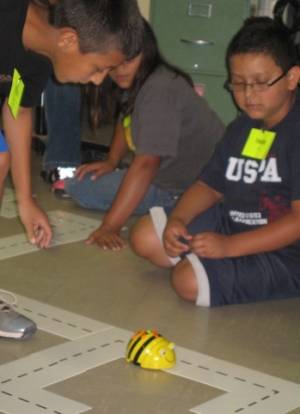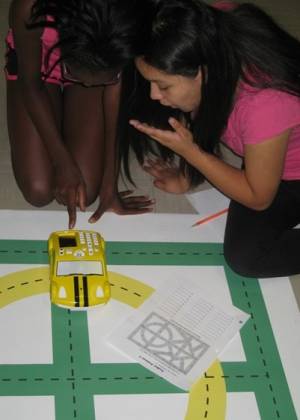 ---
Contact Information
| | |
| --- | --- |
| Name | Lester Carr |
| Position | Technology Consultant |
| School | Akin Elementary School |
| Location | Hale Center, TX |
| Address | 103 West Cleveland, Hale Center, TX 78041 |
| Email | lestercarr@sbcglobal.net |
| Website | http://hcisdowls.net/ |
| Tags | Bee-Bot, Pro-Bot, Texas, After School |
| Age | Grades 1–8 |