Using Bee-Bots Across the Curriculum
"We absolutely LOVE the Bee-Bot. My students have learned how to program it all by themselves. We use it during our literacy block and our math block almost daily. My kids are so invested they don't realize they are learning.
We would in fact love to have more for our classroom!"
"I am able to use the Bee-Bots across the curriculum. We use them during literacy, math and science. I am able to hide learning into games using the Bee-Bots. My students get so excited when I say we are using the Bee-Bots." -Ms. Leland, K-1 teacher
"I like that the Bee-Bots move around."- Lexie, age 7
"Bee-Bots are real awesome and I love them!"- Tommy, age 6
"I like learning with the Bee-Bots cause they are so much fun." Chase, age 6
"It is really easy to make the Bee-Bots go where I want it to go." Ryan, age 6
"I like the Bee-Bots cause when they stop you have to clear the data out." Evan, age 7
"My Bee-Bot doesn't always do what I tell it to! It just doesn't listen sometimes. " Cadence, age 7
The Bee-Bots at Enfield Station School were generously funded through a grant from the Perloff Family Foundation, which is engaged in funding educational innovation in Maine.
Click on the image below to see a slide show of Enfield Station School students using Bee-Bot.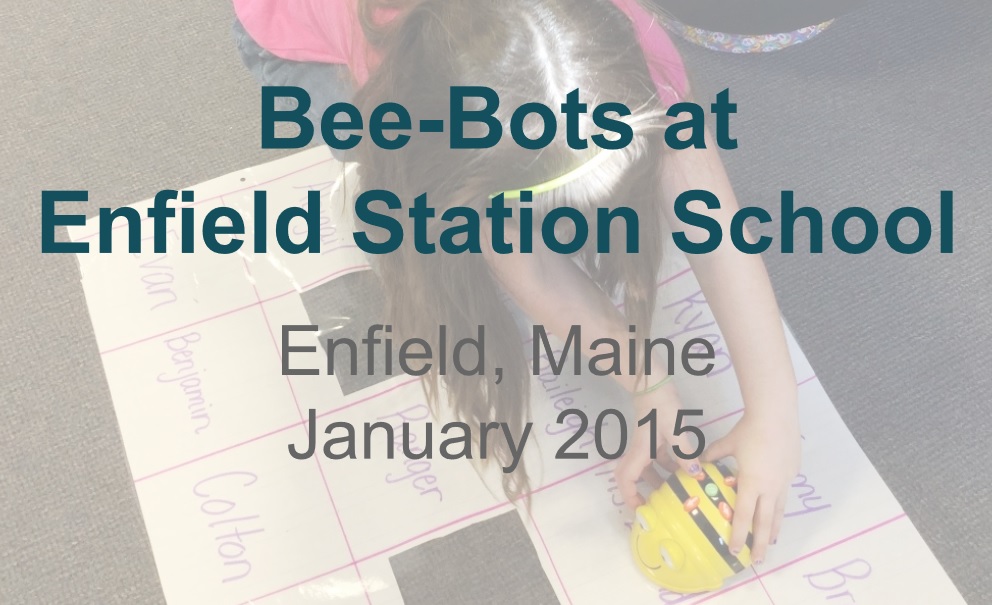 ---
Contact Information
| | |
| --- | --- |
| Name | Audra Leland |
| Position | Kindergarten and 1st grade Teacher |
| School | Enfield Station School |
| Location | Enfield, ME |
| Address | 561 Hammett Road, Enfield, ME 04493 |
| Email | audra.leland@sau31.org |
| Website | https://www.sau31.org/ |
| Tags | Bee-Bot, Maine |
| Age | Kindergarten, 1st grade |