Liberty-Benton Elementary School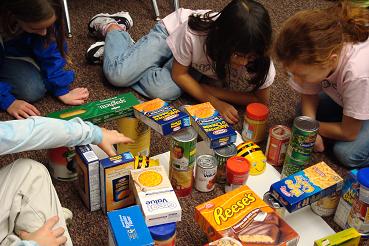 Bee-Bots are used in weekly computer classes from second through fifth grades at Liberty-Benton Elementary School near Findlay, OH. Computer instructor Nancy Cramer uses Bee-Bot to teach problem-solving and logical reasoning and has found the little robots to be applicable in a wide variety of activities. "Students love using Bee-Bots and anxiously look forward to the next opportunity," she says.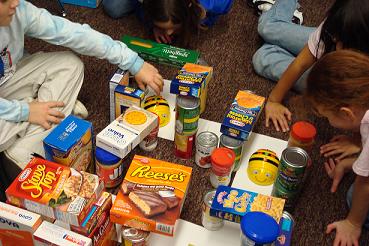 Two Bee-Bots navigate the food maze Bee-Bots turned out to be stars of the annual Salvation Army Food Drive held at the school. Students constructed Bee-Bot mazes out of the items they brought in to donate to the food drive as pictured in the photos. Students earned the opportunity to navigate Bee-Bot through the maze by bringing in food items to donate to the drive. This motivated students to participate and, with the help of Bee-Bot, Liberty-Benton Elementary had the most successful food drive since they began the effort.
---
Contact Information
| | |
| --- | --- |
| Name | Nancy Cramer |
| Position | Computer Instructor |
| School | Liberty-Benton Elementary School |
| Location | Findlay, OH |
| Address | 9050 State Route 12, Findlay, OH 45840 |
| Email | ncramer@lb.noacsc.org |
| Website | https://www.liberty-benton.org/es-home.aspx |
| Tags | Bee-Bot, Ohio, Seasons |
| Age | Grades 2-5 |