Tips for Managing Your Pro-Bot Collection
Heather Fox, a technology specialist for Grades 4–6 in Wrentham, MA, has a long history of using Pro-Bots in her classroom. She wrote to us about she keeps track of the use and maintenance of her many Pro-Bots.
---
I have had my Pro-Bots since December 2016. I wrote a grant and asked for twelve of them. The parent group that raises funds for teachers and students awarded me with twenty-four. I was so excited! The same parent group just awarded me with six more to replace some of the older Pro-Bots that had issues with their buttons.
I have kept the Pro-Bots safe in their 'garage' (the box they came in) for seven years. I tape one end of the box shut, so the students can only open it on one side.
I created a Vehicle Inspection sheet that my students fill out every time they use them. They record their name, grade and teacher, date, and time. I tape the inspection sheet to the box to keep a record of who uses it and when the batteries are changed.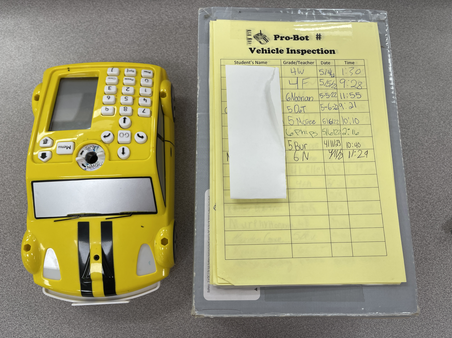 My students love flipping through the sheets to see who used that Pro-Bot before them. I find this system to be very useful in managing the many Pro-Bots in my classroom. It also helps make my students accountable for taking care of the Pro-Bot.
Click to view and download the Vehicle Inspection form.
---
Contact Information
| | |
| --- | --- |
| Name | Heather Fox |
| Position | Technology Specialist |
| School | Roderick Elementary School |
| Location | Wrentham, MA |
| Email | foxh@wrenthamschools.org |
| Tags | Pro-Bot, Tips, Massachusetts, Elementary |
| Age | Grades 4–6 |