Meadowbrook School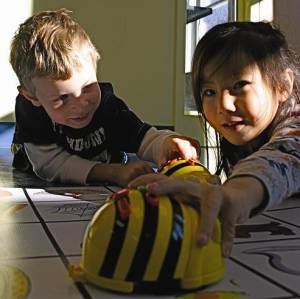 Bee-Bots are used extensively in the lower grades at Meadowbrook School, a coeducational day school for kindergarten through eighth grade students in Weston, MA. Dottie Corbiere, Primary and Lower School Mathematics Coordinator, has used Bee-Bots for several years with students in the lower grades.
Bee-Bots have proven to be excellent motivators and catalysts for storytelling and language arts lessons at Meadowbrook School. First-grade students use the Treasure Island mat to learn to navigate Bee-Bot and develop their mapping skills. They are then challenged to write a story based on the mat using vocabulary words. When studying timing and sequence, students are provided with a vocabulary list of sequencing adverbs including story time at Meadowbrook with Bee-Bot
suddenly
once upon a time
after that
next
consequently
first
after a while
just then
finally
that's when
last
and instructed to use four of these in their stories. Each student writes his or her own story and tells it to the other students, illustrating the story by navigating Bee-Bot across the mat.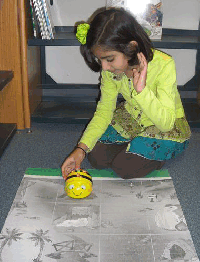 Second grade students make their own mats in art class. Beginning with a 4 by 4 step Bee-Bot grid (24" by 24") on white paper, students develop a story and illustrate it by coloring or painting on their grid. They include elements from their mat when they write their story, with instructions to include at least four mat locations. Then each student illustrates their story by sending Bee-Bot to the described locations as they narrate it to the class. One second grade student drew a map of her neighborhood and told a story of a dog who had lost its bone and went place to place looking for it.
Ms. Corbiere notes that Bee-Bots have been among the most effective tools she has used and are unique in their ability to involve the youngest students with technology. "Bee-Bots have been a highlight of 28 years of teaching–So much fun!"
---
Contact Information
| | |
| --- | --- |
| Name | Dotty Corbiere |
| Position | Primary and Lower School Mathematics Coordinator |
| School | Meadowbrook School |
| Location | Weston, MA |
| Address | 10 Farm Road, Weston, MA 02493 |
| Email | dcorbiere@meadowbrook-ma.org |
| Website | http://meadowbrook-ma.org |
| Tags | Bee-Bot, Massachusetts, Literacy |
| Age | Grades 1-3 |