Never Too Young to Code
School Library Journal, the premiere publication for librarians and information specialists who work with children and teens, recently published Never Too Young to Code, in which they consider the learning benefits and best practices for coding with children as young as three years old. Coding brings young children rich opportunities for language development and the "notion of learning from mistakes," says Chip Donohue, the Dean of Distance Learning at the Erikson Institute in Chicago, a graduate school in child development. "We actually don't do enough of that with young kids." Sequencing and patterns involved in programming reinforce skills that have always been taught in the early years, but now also create "habits of mind that are essential for the 21st century," he adds.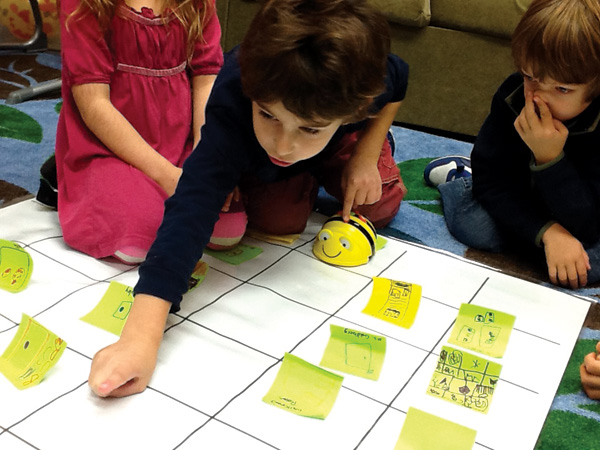 Kindergartners use Bee-Bots to explore coding and mapping skills at the Cook School in Chicago
Citing Bee-Bot as an example of a teaching tool well suited to the floor-space learning of early childhood classrooms, the article discusses the importance of teaching coding to young children through hands on learning in an active and social environment. Experts suggest that educators avoid the old computer lab model in which students spend a set amount of time each day or week practicing basic coding skills. Preschoolers learn from active experience, they "don't need to know how it works," says Donohue.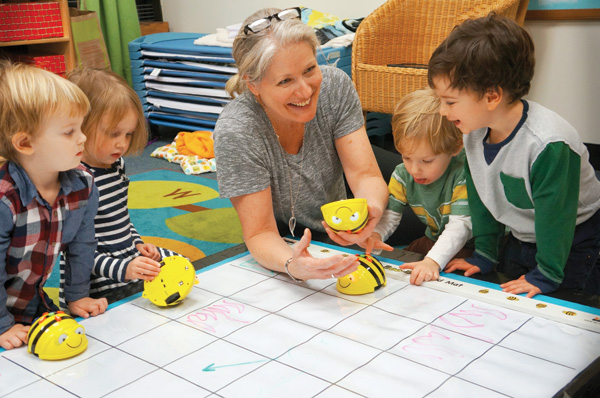 Cook preschool teacher Lisa Dickinson engages three-year-olds in a directional programming activity
"In the process of learning to code, people learn many other things. They are not just learning to code, they are coding to learn," Mitchel Resnick, professor at the Massachusetts Institute of Technology (MIT) Media Lab, wrote in an EdSurge article. "In addition to learning mathematical and computational ideas (such as variables and conditionals), they are also learning strategies for solving problems, designing projects, and communicating ideas." Resnick adds that these skills are useful to everyone "regardless of age, background, interests, or occupation."
Read the full article in the School Library Journal http://www.slj.com/2016/04/technology/never-too-young-to-code/#_
---
Contact Information
| | |
| --- | --- |
| Name | School Library Journal |
| Position | Publication |
| School | School Library Journal |
| Location | USA |
| Website | http://www.slj.com/ |
| Tags | Bee-Bot, Blue-Bot, Early Learning |
| Age | Pre-K |