Spelling with Bee-Bot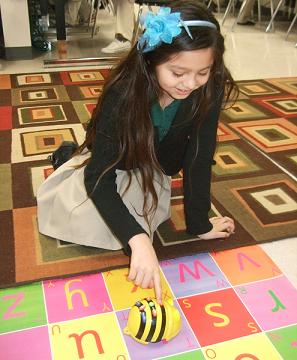 To celebrate Computer Science Education Week, Piney Point Elementary School held a Robotic Spelling Bee and Open House. Elementary school students, teachers and invited guests participated in this contest. As a first step, students practiced spelling words using Focus on Bee-Bot which simulates Bee-Bot programming with a variety of maths. The alphabet mat was used for the spelling bee.
After moving the simulated Bee-Bot on the computer was mastered, students programmed a Bee-Bot floor robot on an actual Alphabet Mat to spell words. They started with one-letter words and moved up to six-letter words. Students moved through the levels using words from the sentence, "I want to design a present for my brain." Students can't wait for the next spelling bee to tackle the next levels.
It was fascinating watching the different strategies students used to solve this problem. A science teacher said this is hard and really requires scientific processes and thinking. Mrs. North would love to hear from other elementary school teachers about what they do to bring computer science education to younger children.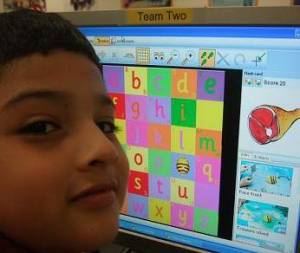 A student teaching his teacher how to program Bee-Bot and cheering for success.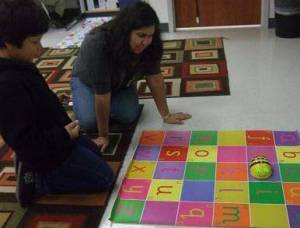 Practicing spelling words with Focus on Bee-Bot - "See my score of 20!"
---
Dancing with the Bees
---
Contact Information
| | |
| --- | --- |
| Name | Karen North |
| Position | Technology Instructor |
| School | Piney Point Elementary School |
| Location | Houston, TX |
| Address | 8921 Pagewood, Houston, TX 77063 |
| Email | knorth@houstonisd.org |
| Website | http://es.houstonisd.org/PineypointES/ |
| Tags | Bee-Bot, Texas, Learning Mats, Video |
| Age | Grades 1-4 |