Pro-Bot Rover Explores the Surface of Mars
Linda Frantz, Elementary STEM Educator and Robotics Coach at Northridge Elementary in the Putnam City School District in Oklahoma recently shared her unit Coding with Curiosity at the Space Education Exploration Conference held at Space Center Houston.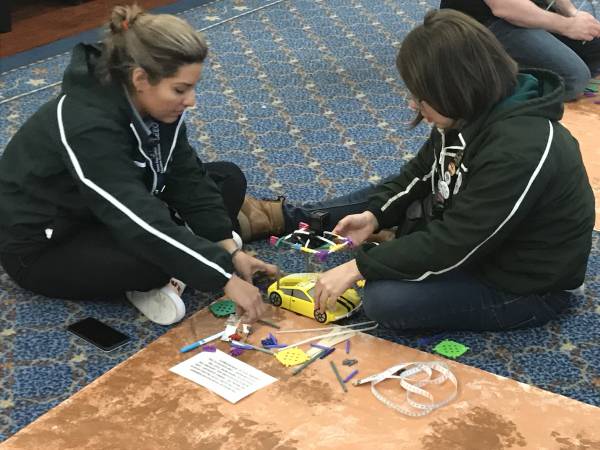 Frantz has her grade 3-5 students turn Pro-Bot into the Mars rover Curiosity. First, the students use K'nex to create a mount for a camera. Then students program their "Rover" to travel the Mars surface. This is done by entering commands right on the Pro-Bot via the onboard keypad. By programming Pro-Bot students gain experience with sequencing, distance, and direction.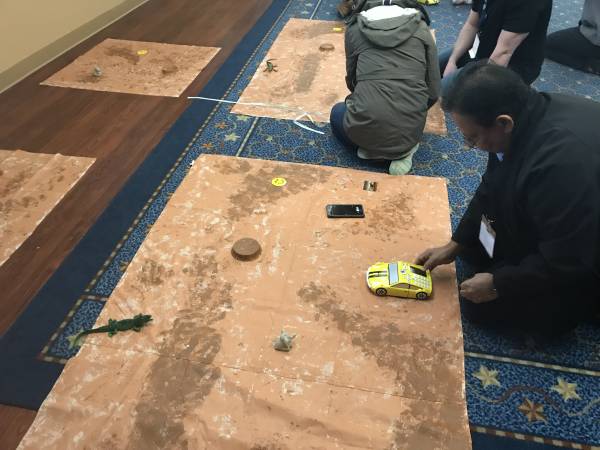 Frantz created the landscape by sponge painting a painter's drop cloth and using physical items to represent different parts of the Mars Landscape. For example a Happy Face sticker is used to indicate a happy face crater and a plastic elephant to represent Jumbo Elephant. Having the camera allows students to record the mission and play it back, allowing them to gather data such as looking for evidence of water. Frantz encourages teachers to get creative when creating their landscape. Creating this Mars environment combined with Pro-Bot provides an open ended environment for a multitude of lessons.
Frantz has kindly agreed to share her Lesson Plan with other educators who would like to turn Pro-Bot into a Mars Rover of sorts.
---
Contact Information
| | |
| --- | --- |
| Name | Linda Frantz |
| Position | Elementary STEM Educator and Robotics Coach |
| School | Northridge Elementary, Putnam City Schools |
| Location | Oklahoma City, OK |
| Email | lfrantz@putnamcityschools.org |
| Tags | Pro-Bot, Oklahoma |
| Age | Grades 3-5 |