Pro-Bots at Dale Street School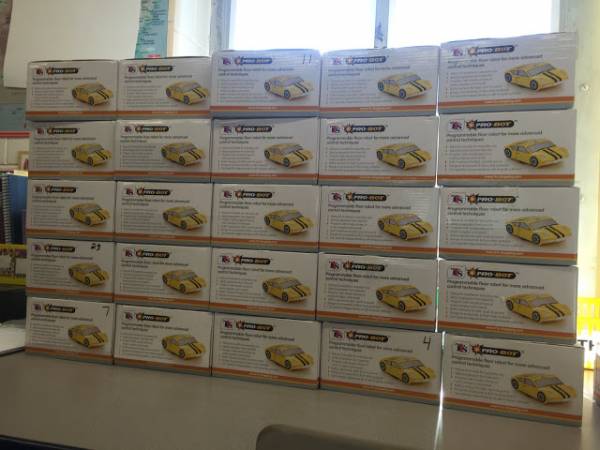 With the help of a grant from the Medfield Coalition for Public Education, the Dale Street School in Medfield Massachusetts purchased 50 Pro-Bots. Grade 4 teacher Marissa Foley and Grade 5 teacher Kerry Cowell jumped right in with an exciting series of lesson plans using the programmable robots in their individual classrooms as well as in joint sessions involving both grades of students. With a focus on collaboration and joint problem solving the teachers created challenges for the students that enhance their learning of the curriculum as well as many social skills.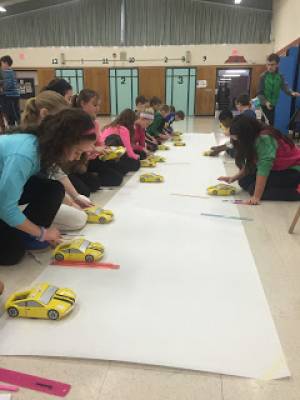 Marissa describes how, at the end of week 3 the two classrooms got together: "Their challenge was to program their Pro-Bot to create a track and then challenge their partner from the other class to figure out their program by observing their track and attempting to run their Pro-Bot on it… It was so valuable to hear conversations about measuring distances and how to determine how many degrees are in a turn. Their learning could not have been more evident."
Marissa and Kerry are documenting their experiences with the Pro-Bots on an excellent blog, Dale Street Pro-Bot Pilot, which features images, videos, and samples of students' work, along with the teachers' comments about their learning objectives, successes, challenges, and general observations. It makes a great read and is an excellent resource for any teacher looking for ideas on how to best use Pro-Bots in their classroom.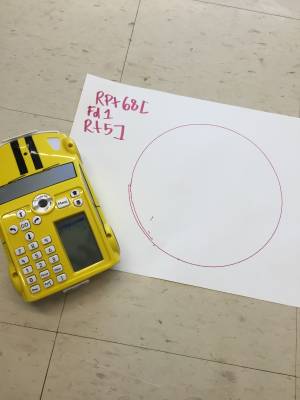 At Terrapin Logo we were struck by the students' rapid understanding of geometry through the programming of the robots to draw shapes. The students' became progressively more ambitious in their choices and saw failures to draw the shape they were planning as an opportunity to asses the program commands and figure out where the mistake was, thus learning further lessons in problem solving and perseverance. At the end of the first week Kerry Cowell wrote in the blog "Students dove in, took risks, persevered through challenges, and worked tirelessly until they found success… all of this without frustration, asking for adult help, or complaining. There were so many teachable moments that came about naturally, and kids were so engaged and wanted to talk about them."
Marissa also commented that "Even MORE impressive was what they started to create when they were left to their own devices. They were figuring out how to make round shapes and creating intricate designs."
Marissa and Kerry are clearly thrilled with the progress the students have made in a very short space of time, and we look forward to returning to their blog to see their Pro-Bot ideas in action over the coming months.
---
Contact Information
| | |
| --- | --- |
| Name | Marissa Foley |
| Position | Grade 4 Teacher |
| School | Dale Street School |
| Location | Medfield, MA |
| Address | 45 Adams Street, Medfield MA 02052 |
| Email | marissafoley@email.medfield.net |
| Website | http://probotpilot.blogspot.com/ |
| Tags | Pro-Bot, Massachusetts, Coding, Math |
| Age | Grades 4 & 5 |