Using Bee-Bots to Support Story Writing
Marybeth Green is an associate professor at Texas A&M University-Kingsville, the graduate coordinator of the Instructional Technology program, and co-coordinator of the doctoral STEM Education certificate program. While spending time at her grandsons' daycares and schools she observed children playing with the Bee-Bots on the mats, and noticed that they were creating stories and telling them to their friends. Marybeth shared this observation with her colleague Lisa McNair and, thinking that this was a way to support storytelling among young children, together they set out to study the impact use of the bots might have on children's developing literacy skills.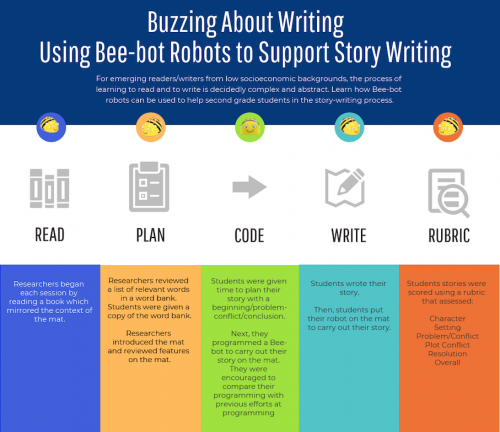 Marybeth says "We worked with an elementary school in our area. We went in once a week for 6 weeks. During the first session, we introduced the kids to Bee-bots and gave them a chance to practice with them. As a final challenge, they were asked to make the Bee-Bot navigate around a chair. Each of the following weeks, we would go in with a different story mat. Lisa would read a story that was in the same context of the mat. We reviewed significant words related to the mat on a Word Bank. Then, we gave them time to plan a story for Bee-bot on the mat. They created the program for Bee-Bot and then wrote up the story."
Each week after they left the school, Marybeth and Lisa would score the stories using a Story Grammar Rubric which graded it on Character, Setting, Problem/Conflict, Plot/Sequence of Events, and Conclusion. "The scores for the stories were saved in a spreadsheet. At the end, we did a statistical analysis which showed that the stories overall from the last session were significantly different from the beginning stories. Of most interest though, we did another statistical analysis to show how much change had taken place and we found that Setting had a large change from the beginning to the end."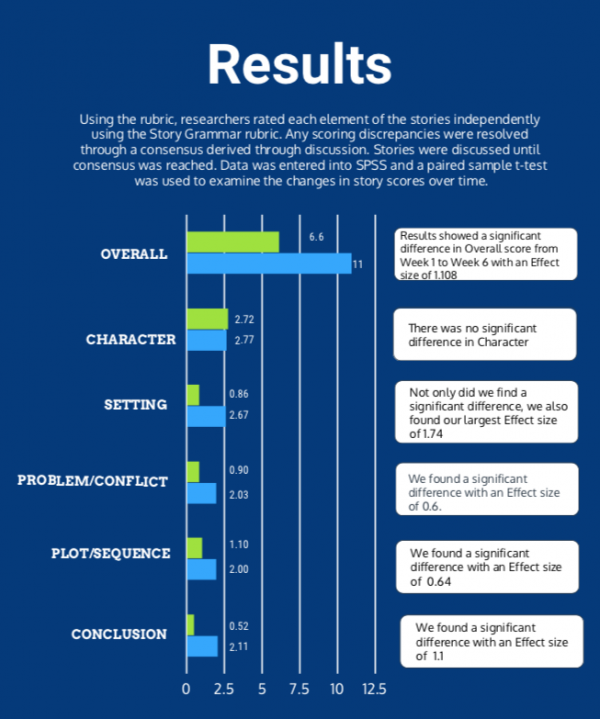 "One of the theories that supported our work was Seymour Papert's theory that robots are body-syntonic, which means that kids use their knowledge of the world to make robots move. On the Fairy Tale mat, for example, they know that to get to Jack in the Beanstalk's house, they have to determine where they are and figure out how they would get there as if it was a real world. To us, this meant that they engaged and immersed in the task as if they were in the world of the mat."
Programming the robots and writing stories had a large overlap in that both require sequencing, and Marybeth and Lisa think that the sequencing component of programming supported the storytelling component. They also found that "STEM and literacy do not have to be separate and integrating STEM into the content enables students to show what they have learned in a nontraditional, but truly valid way".
Marybeth continues to study this area, particularly with the support of some grants, and she is currently working to align Bee-Bot activities with the state standards, and to further their use as a tool for story telling and literacy development.
You can read the full study at Green, Marybeth and McNair, Lisa. (2019). Steamsational writing: An investigation into using robots to inspire children's narrative writing skills. In P. Sullivan, J.L. Lantz, and B. A. Sullivan (Eds.) Handbook of Research on Integrating Digital Technology with Literacy Pedagogies. Hershey, PA: IGI Global.
You can also check out the programs for educators, some Tech based and others focused on STEM, that Marybeth runs at Texas A&M.
---
Contact Information