Teaching Others to Teach with Bots
Nikolaos Chatzopoulos is the Director of Innovation of Plato Academy Schools, the founder of the ST4T Conference, the founder of the EdTech Innovation Hub, and the co-founder of EdCampTampaBay.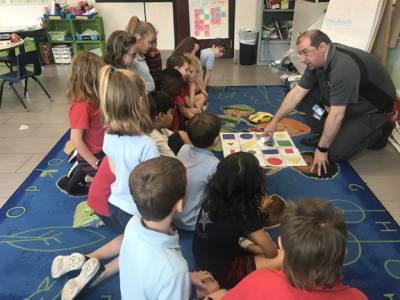 "We use Pro-Bot in math with upper elementary students, where we program Pro-Bot to move around a rectangle of specific dimensions. In middle school, students use the Pythagorean Theorem to calculate the length of the hypotenuse of a right triangle and program Pro-Bot to draw the triangle." By inserting a pen in Pro-Bot's pen mechanism, the students have the robot draw while it is executing their program, which they often describe as "incredibly cool!"
Nik adds that "One thing that pleasantly surprises me is that the upper elementary and middle school students are inspired to figure out more advanced functions quickly, without substantial support from me or their teachers. At times, it seems like they are teaching us!"
In addition to using Pro-Bots to teach mathematics and geometry, Nik uses Blue-Bot in social studies and geography. In one particular exercise "the students construct a mat with countries of South America, and challenge each other by programming Blue-Bot to land on a country and have the opposite team recite 5 facts about that particular country."
Nik enjoys using Terrapin products and also takes them to show when he visits other schools. He recommends Bee-Bot and Blue-Bot for K-3 students and Pro-Bot for grades 4-5 as well as middle school students. He demonstrates Bee-Bot, Blue-Bot, and Pro-Bot at conferences and in presentations and workshops on coding, STEM, and technology in the classroom, where his enthusiasm for the Bots is quite infectious, and his creative approach to integrating them within the curriculum provides ideas for other educators to use in their own classrooms.
---
Contact Information
| | |
| --- | --- |
| Name | Nikolaos Chatzopoulos |
| Position | Director of Innovation |
| School | Plato Academy |
| Location | Florida |
| Email | chatzopoulosn@platoacademy.net |
| Website | https://platoacademy.net/ |
| Tags | Bee-Bot, Pro-Bot, Blue-Bot, Florida, Conferences, Teacher Training |
| Age | K-5 and Middle School |