Welcome to Turtle Tuesdays!
Turtle Tuesdays offers fun programming challenges for Logo and (sometimes) Pro-Bot and Kinderlogo users.
Weekly challenges are posted every Tuesday on Facebook and Instagram.

Easier designs and project ideas await younger learners, while older students will puzzle out more difficult challenges. All students will enjoy varying their code to create personalized results. In the process, they will learn new commands and exciting ways to use them.
"So incredibly important to start our youngest learners on a path to coding literacy - this program is engaging and effective." ~ Eileen H.
All the challenges are archived here, with solutions provided in the PDFs in the sidebar. Some challenges have smaller components that can be done with Pro-Bots, as noted for each one. Encourage students to work collaboratively to complete challenges.
Don't have Logo? Give it a try with the free 14-day trial.

---
Challenge No. 62 - December 5, 2023
for Logo users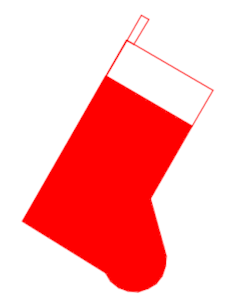 Can you draw a holiday stocking in Logo?
Use square corners for the toe, if you want.
---